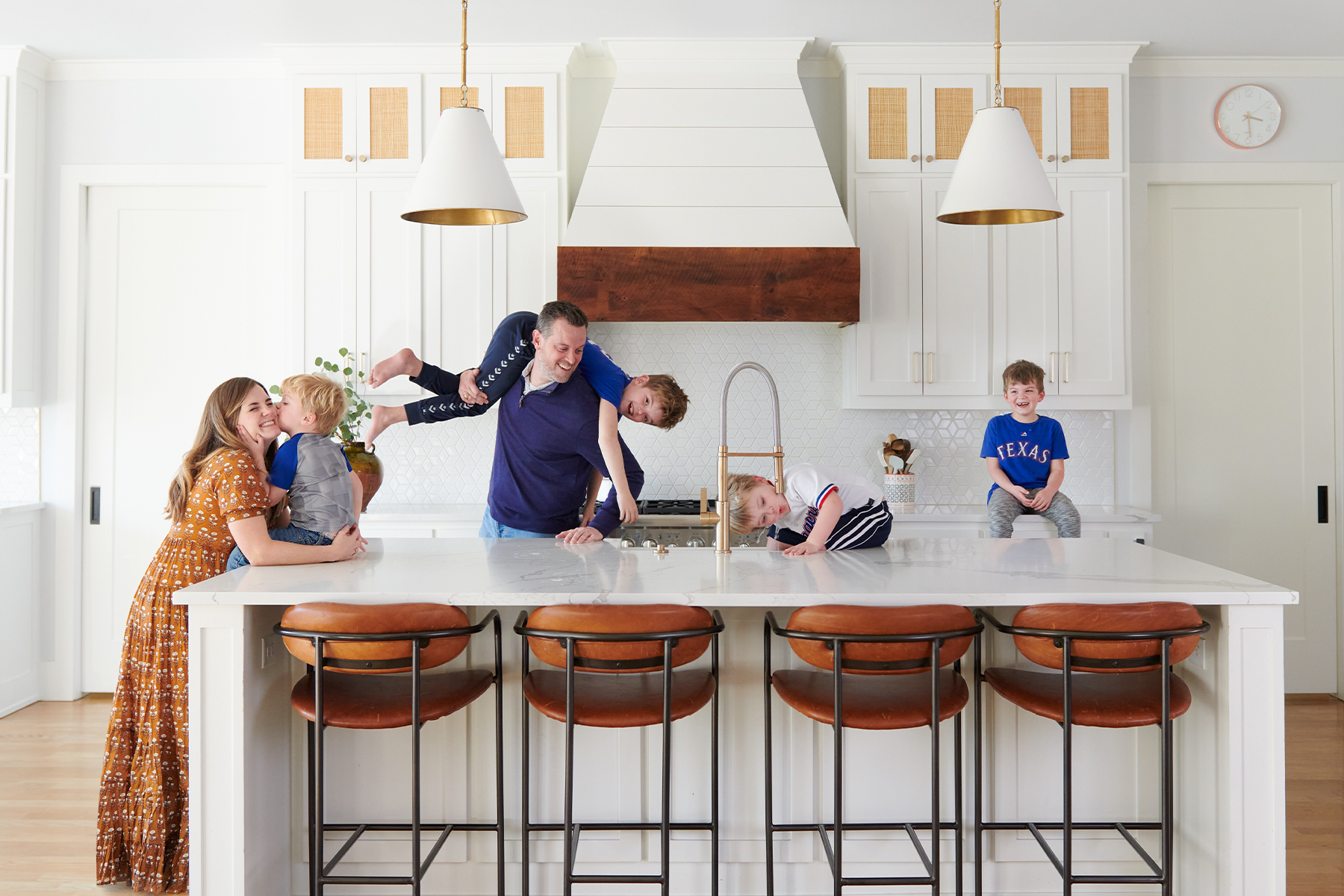 At home with interior designer Ashley Dalton
Most homes grow and change with their owners, but Ashley Dalton's home is in an almost constant state of evolution. "I am always revamp my shelves, change the artwork on the walls and move the furniture," says the designer. Even beyond the quick swaps, however, their Lakewood home has had to adapt more than once over the years to accommodate changing family dynamics.
In 2016, when Ashley and husband Mark found out they were expecting their third child, they knew it was time to say goodbye to their historic, out-of-storage Munger Place home and put down roots in a more spacious place. They found a lot of stuff, which gave Ashley the chance to design her first project from scratch. She made plans to suit their family of nearly five, but just as construction wrapped two years later, their quintet was surprised to learn they were growing from another.
Q&A with Ashley Dalton
How do you design with children in mind?
"Indoor/outdoor fabrics and leather are my jam for upholstering a space with children. And I just discovered Beddy's bedding. Cute 100% cotton bedding, specially designed for children and bunk beds. It makes it easy for kids to make their own bed – it simply closes like a sleeping bag.
"They were painting the house; we were almost done," she laughs. "I was like, 'Oh, this is going to have to open up.' "
Walls have been removed to create larger bedrooms and bathrooms. The kitchen island with dining area has expanded to accommodate four growing boys (and their often visiting friends). And wasted space has been reclaimed – becoming nooks for desks and secret costume closets – to save every usable square inch.
Today, their house is a real family home, one that crosses generations. Almost every room contains a sentimental collection, and heirloom furniture has pride of place throughout, some with their own upholstery evolution (in stain-resistant performance fabric, of course).
At the start of this year, the house was in the throes of its final evolution, with the two older boys banding together to free up a room. Ashley is expecting their fifth child, a girl, in June.
Author
Jessica Otte is the editor of D Home and D Weddings. In 2006, she participated in the launch CEO like…