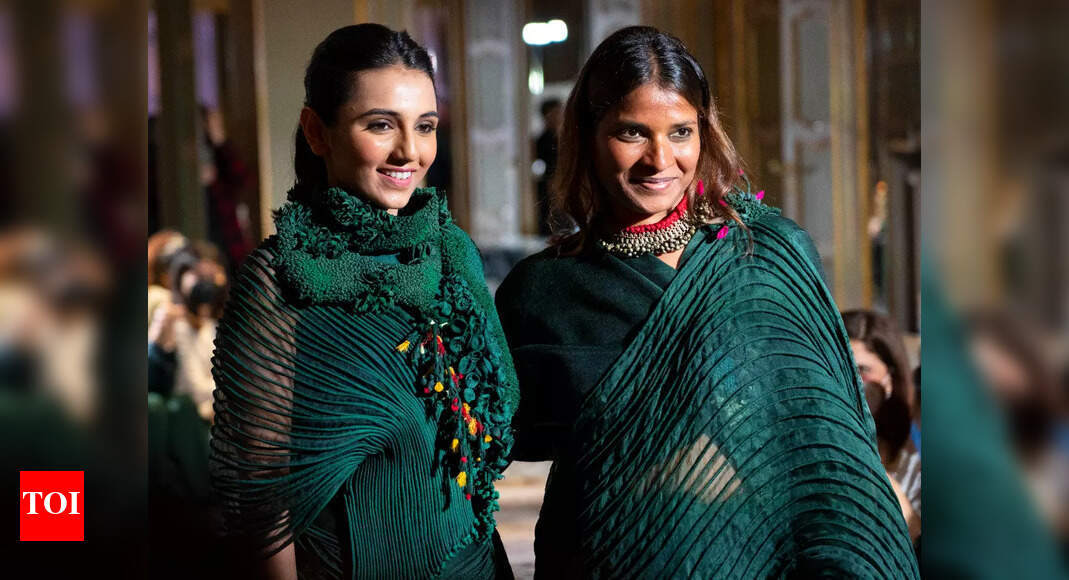 First Indian designer to feature at Milan Fashion Week
Designer Vaishali Shadangule may be shy and reticent, but she lets her work do the talking. After debuting at Paris Haute Couture Week last year, she has now showcased her collection titled Srauta at the ongoing Milan Fashion Week. With this, Vaishali is now officially the first Indian designer to take part in Milan Fashion Week. The show also marked the global launch of Vaishali S's ready-to-wear line. The designer proudly positions Indian weaves at the pinnacle of international luxury through her eclectic silhouettes.
Fashion influencer Masoom Minawala has become a staple for the designer. And it was also the first time an Indian content creator walked the ramp as a showstopper during Milan Fashion Week.
Masoom is a fan of Vaishali's work and she wears her designs for her public appearances. Sharing her excitement at becoming a showstopper for Vaishali, she said, "I'm overwhelmed with emotions. I feel empowered to walk the ramp for India's premier designer to showcase her collection at Fashion Week Milan. I am proud to represent the complexity of Indian craftsmanship on the world stage. The most important feeling is certainly to be grateful for this opportunity, it is a milestone.

Speaking more about Vaishali's work, she added, "I love the structured silhouette, it creates the illusion of soothing movement. The fact that the collection is hand woven and homegrown fills my heart with so many pride."

A delighted Vaishali spoke to us over the phone and shared her experience. "It was a special night and a different show for the brand and me. Presenting in Milan, the hometown of my partner Alessandro Giuliani and the fashion capital of the world was really very special. Over 250 people from the media and who's -who from Milan, were treated to this special fashion show with glasses of Prosecco, in a beautiful location by our friends, EDRA and Simone Vago, with models from the Milanese company and makeup from Astra.Overall, a special show that is already flooding us with business inquiries." she says.
The collection included 40 garments. It wasn't just embroidery, but full-fledged haute couture design and fabrics in a new avatar of ready-to-wear, which shone the spotlight on hand-woven Indian textiles. The collection emphasized manufacturing excellence, sustainability, zero waste and circularity at its heart. To ensure continued support and positive social impact to the craft clusters, Vaishali has also used weaves used in the past in this collection.
Using her unique talent for effortlessly blending traditional weaves and techniques with dramatic silhouettes, Vaishali's Srauta collection, among other fabrics, explores in depth the use of hand-woven merino wool from Bengal and Pashmina from Ladakh. , which will keep the wearer warm in colder seasons and surprisingly cool in the warmer months.
Known widely as "wearable art", the collection included jewel tones such as deep aquamarines, ruby ​​reds, shimmering amethysts, pearly whites, jade greens and slate grays, all of which are very well adapted to the autumn-winter season. The garments also showcased the designer's sought-after approach to blending and weaving and a deeply creative process throughout Vaishali's ongoing journey of self-expression.