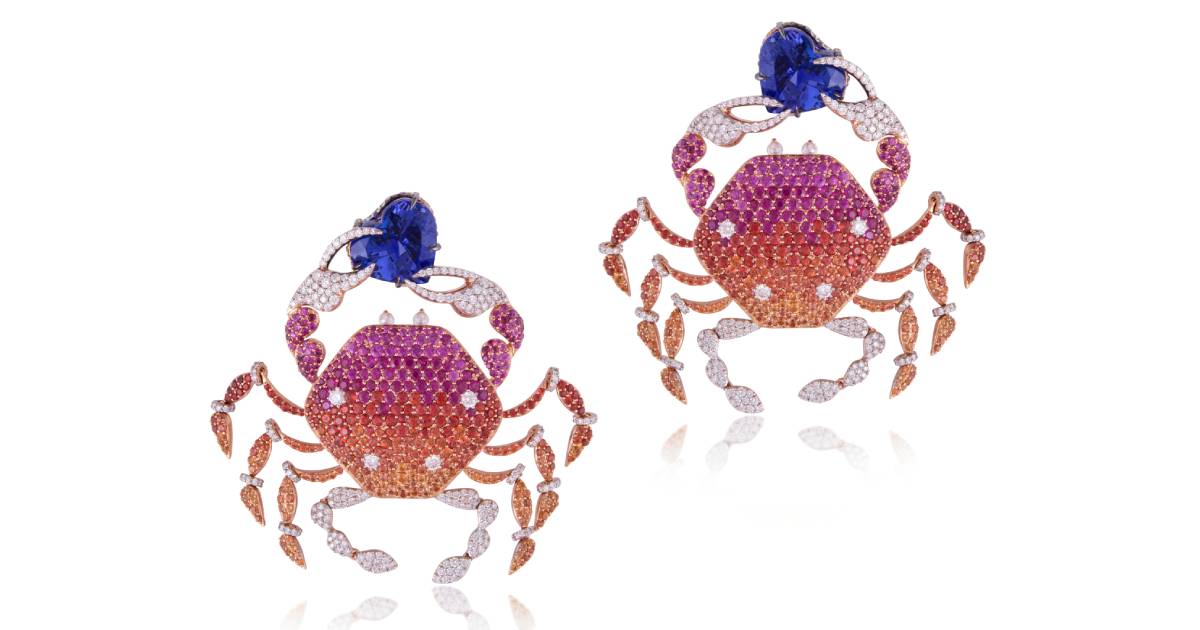 International Solitaire | Solitaire & Jewelry Magazine
The jewelry of award-winning designer Pavit Gujral can be described in two words: adventurous and daring. Her creative flourishes are a direct reflection of her hobbies – the Dubai-based designer is a certified scuba diver and an avid traveler.
Winner of two prestigious Saul Bell Design Awards 2020, Pavit has a fertile imagination and is an avowed perfectionist. All of her pieces are curated with the utmost attention to detail. His goal ? Designing unique, cutting-edge jewelry and educating customers about gemstones, including lesser-known ones. Learn more about this up-and-coming global jewelry pop star in Solitaire International.
You were born in Kolkata and grew up in Chandigarh. How have these two cities with very different cultures influenced you? What was the turning point that pushed you to choose jewelry design?
Kolkata has a rich history and is considered an artistic city with a rich aesthetic sense, and Chandigarh is a quaint, modern and well-planned city that was designed by a French architect. Both cities illuminate everything they touch, just as they ignited the fire in me to create original, playful and unique jewelry. Spending a lot of time in both cities gave me a comprehensive understanding of their cultures and styles.
Due to my unwavering passion for design, it was an instinctive choice for me. I have always been aware of wanting to create styles of jewelry that are both eclectic and fascinating. Plus, traveling the world is inspirational in one form or another, whether it's the thrilling beauty of Italy or, more often than not, the raw beauty of Mumbai.
When did you create your brand and where?
I created my brand in 2016 in Chandigarh, after completing my studies at the Gemological Institute of America, in New York. Over the past two years, I have created my own collection of bold and unique pieces, and have won numerous awards in India and abroad.
The by-appointment design studio is located in the Dubai Design District. Now that my brand is established in Dubai, I intend to further penetrate international markets in the coming years.
With two prestigious Saul Bell Awards under your belt in 2020, how does it feel to become everyone's eye-catcher?
It's great when my creations are appreciated and get the exposure they deserve. It takes a lot of work to conceptualize an idea and make a part! It's really difficult but rewarding to express yourself through art.
You aim to be the Pop Star of the jewelry industry! And it shows in your use of gemstones. Your comment.
Yes, I aim to be the Pop Star of the jewelry industry – bold and fashion forward. Being a gemologist, I like the playfulness of colored stones, and all my pieces highlight them. Some of my favorites are Paraiba Tourmaline, Spessartine Garnet, Tsavourite Garnet, Alexandrite, due to its color changing properties, and Tanzanites.
I don't follow stereotypical color combinations. For example, in my Twilight collection, I combined blue and orange. I'm still experimenting and would like to work with titanium in the near future.
How do you educate your customers about the little-known gemstones you use? Is today's consumer more evolved in terms of going beyond the intrinsic value of a piece of jewelry and more design conscious? Your views.
Every time a client comes to see me to design a piece, I try to work on the concept of resonance. Therefore, I ask them about their color preferences and suggest various gemstones, especially the lesser known but incredibly beautiful ones. For example, leafy green tsavorite garnet is a beautiful alternative to emeralds. In fact, most people are not even aware of the different colors available in garnets. They only know red-brown garnet. Recently I designed a beautiful tanzanite engagement ring, instead of a standard diamond ring, for a very close friend and she loves it!
I target niche consumers who don't just view jewelry as an investment. Instead, they appreciate it as an artistic piece and for its design concept.
Your lines are based on various inspirations such as architecture, nature, art, etc. Do you take inspiration from a particular gemstone, or work around an idea and then start sourcing the relevant gemstone?
Frankly, both. In most cases, however, it is the latter, since all pieces are inspired. So, I start doing a rough sketch, conceptualize it, and then find the gemstones.
I believe inspiration comes from a range of intriguing experiences. Sometimes while traveling I collect gemstones from around the world and create designs around them. My latest La Fleur collection was conceptualized this way.
How long does it take for each piece to come to life?
Once I finalize the design, it takes between 8 and 12 weeks for a piece to come to life. It takes incredible attention to detail. Animal-inspired pieces, for example the squirrel ring, crab earrings, or Al Maha brooch, take longer because they require more time to get the anatomy right.
From your beginnings until today, how have you evolved as an artist?
To put it simply, I have acquired creative freedom over time. Being a creative person, ideas and designs constantly come to mind. Growing as an artist involves knowing which of these ideas should be realized and this has been one of my main learnings over the years. My goal is to stay ahead of the game while maintaining the essence of my style. At the same time, manufacturing techniques are also evolving, making the pieces more dynamic, which accentuates its uniqueness.
How would you define your creations?
Bespoke, bold, inspired and forward-thinking.
Where do we buy your jewelry? Do you have a hybrid retail format? Do you also sell in India?
We only work on custom pieces designed to order. The design studio is located in the Dubai Design District and can be visited by appointment. We are not in retail.
In India, my design studio is located in Chandigarh, which works on the same concept.
What is a day in the life of Pavit Gujral?
My day starts with making a to-do list to make sure I don't miss any important tasks. I oversee all areas of my brand – be it social media, partnerships, photo shoots, etc. My evenings are reserved for training and relaxation. I start designing at night so I can work with total devotion because jewelry making is sacred to me.
Outside of designing, what's the second thing you enjoy doing the most?
I love travel, which has served as a common thread for almost all my creations. Traveling helps me focus my thoughts and experiences. The Voyage collection is inspired by my travels.
Scuba diving is another. I have a whole collection inspired by the marine world! The award-winning Dancing Fish collection is one, the Crab earrings, the Octopus ring and many more. It's a surreal experience when you're underwater.
If you weren't a jewelry designer, what would you be?
A shoe designer. But a designer for sure, because there's nothing more meaningful to me than creating something that sets a trend and keeps my clients connected to me.