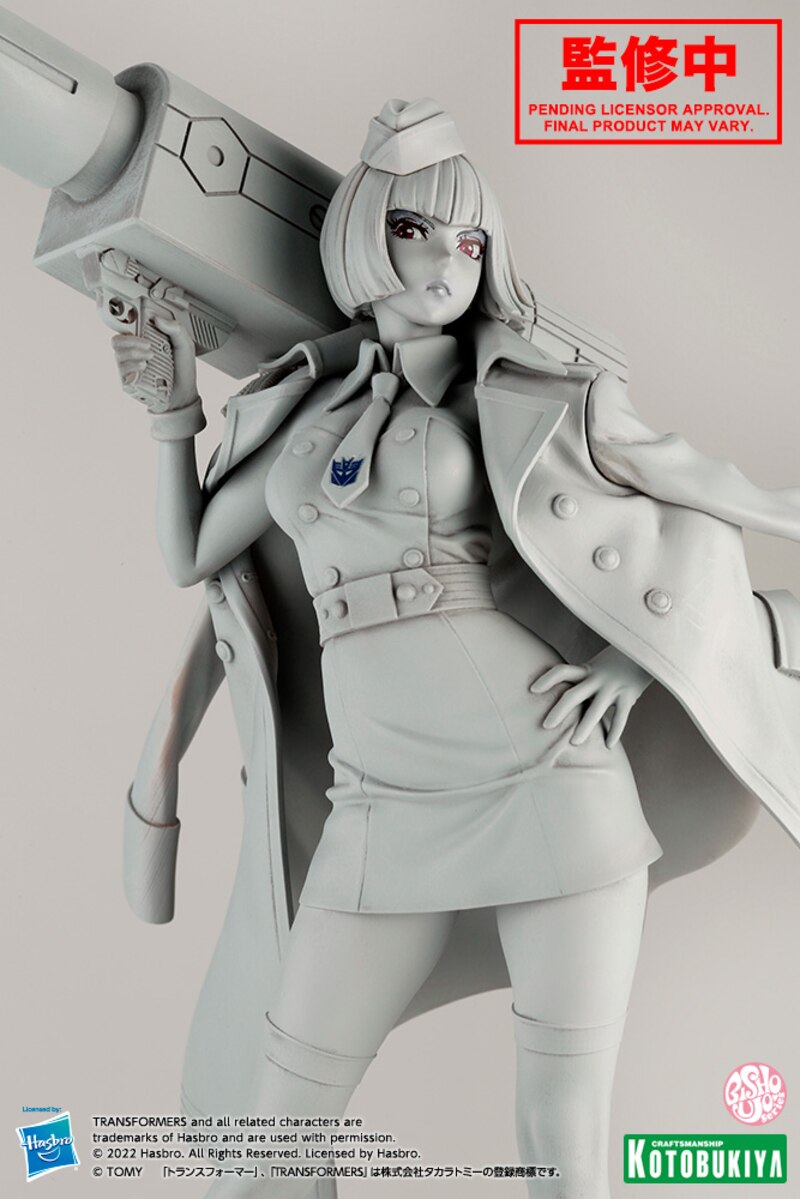 Kotobukiya Transformers Collection Interview with Bishoujo Megatron Designer
Kotobukiya official website updates with details about the Kotobukiya Transformers Bishoujo Megatron Collection release with an interview with designer Shunya Yamashina. Look for the 1:7 scale PVC statue to be released sometime in 2023. Read on to see translated Q&As and new images of the Kotobukiya Collection Transformers Bishoujo Megatron prototype.
TRANSFORMERS Bishoujo Megatron Designer Interview with Shunya Yamashina
Why did you do this pose? Why did you choose this pose?
Although he is in a different position, he is a "reliable leader who has a lot of trust from his subordinates" like Optimus Prime, so I wanted to convey a "reliable feeling" while differentiating between the two characters. The "Fusion Cannon Cannon" is a pose that stands on his right arm while considering adjustment with the convoy. It's hard to replicate the angle of the chin up and looking down in 3D, but thanks to Mr. Tsubame who was also in charge of the convoy prototype, it's a big deal! !! It was over coldly.
Although her position is different from that of Optimus Prime, she remains a reliable leader trusted by her subordinates. I wanted to express his reliability while emphasizing the differences between the two characters. The pose – holding the Fusion Cannon in his right arm – was designed to look good when displayed alongside Optimus Prime. The face with the chin up and the eyes down can be difficult to sculpt, but thanks to TSUBAME, who also worked on Optimus Prime, the result is perfect.

Please tell us what you were particular about modeling. What parts of the sculpting process did you pay the most attention to?
In order to give a neat image and a solid feel like "military uniform", we asked for fine adjustments on the costumes and the edges of the hair. I think I was able to give a stoic impression from the beautifully toned legs that were peculiar to modeling.
I requested fine adjustments to the edges and tips of her outfit and hair to emphasize the sleek and neat image of her military uniform. We paid special attention to the lines of her beautifully toned legs, which I think also help show how stoic she is.

What points would you like us to pay particular attention to? Which part would you highlight the most?
The bangs are straight bob style, Garrison cap and dark eyeshadow to express the head. Details such as the handle modeling of the "Fusion Cannon Cannon" are also heavily aware of the original Megatron. Please compare it with the cool robot figure!
Details such as the handle of the Fusion Cannon are heavily based on the original Megatron. Have fun comparing it with the super robot Megatron!
SPECIFICATIONS