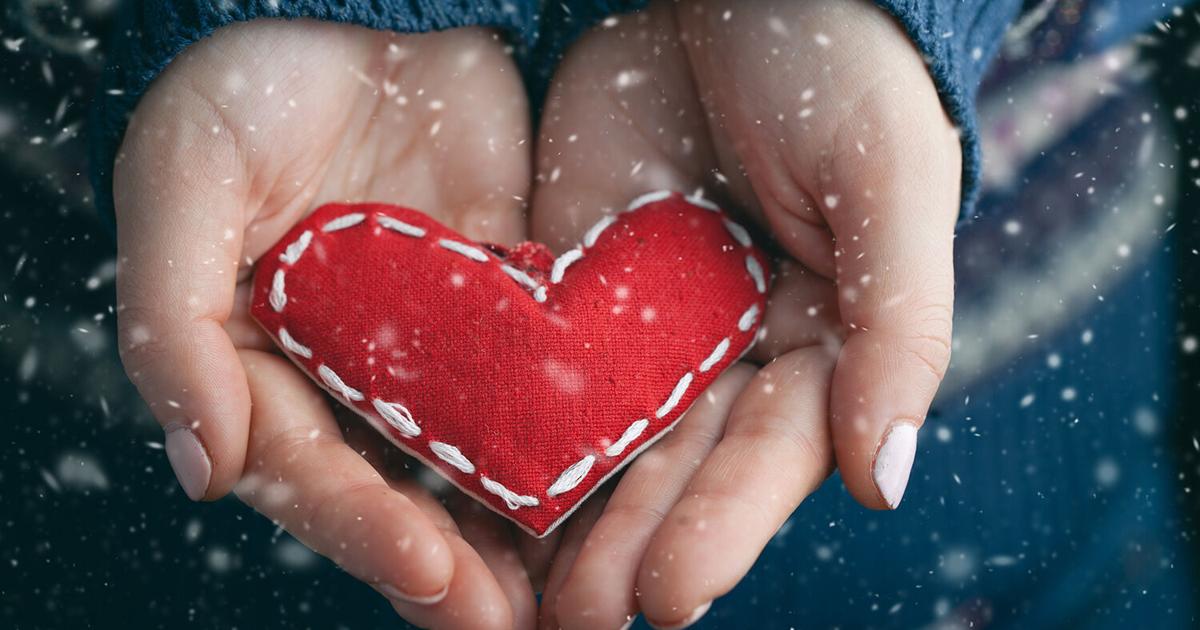 Make someone's season shine by giving | Clothes
The need for those in a position to lend a helping hand is greater than ever this holiday season. With many local organizations seeking help, there are many options, large and small, to make a difference in someone's life. Giving back affects both the recipient and the donor significantly and could inspire someone else to do the same. Here are some local ideas to get you started:
• The Scituate Police Department and Navigant Credit Union are working together for the 5th Annual Stuff a Cruiser Event to deliver Christmas gifts to children in the Scituate community who otherwise would go without. On Friday December 3 at 4 p.m. and Saturday December 4 at noon, officers will be accepting donations for the North Scituate Village Candlelight Walk. Cruisers will be parked on West Greenville Road and Institute Lane. On Friday, December 10 at 4 p.m. in the Village of North Scituate during the Village Christmas Lights – Festival of Trees, cruisers will be parked on West Greenville Road and Institute Lane. Those unable to attend the events can donate to the Scituate Police Department, 1301 Chopmist Hill Road, or Navigant Credit Union, 135 Danielson Pike.
• Maison Sainte-Marie for children: There are many ways to participate in bringing gifts to the children of St. Mary's Children's Home in North Providence by purchasing items from the following wish lists: Residential / Classroom Wish Lists; Wish lists for young people, or through tree tags, which list items that children want; Holiday wish list. Articles from the last day will be accepted on Wednesday December 15th. To participate, contact Ashley Stetson, Development Coordinator, at [email protected] or 401-353-3900, ext. 280.
• The Knights of Columbus of the Lincoln Council collects new items in support of Operation Remember Our Veterans This Christmas. The collected items will be handed over to the men and women of RI Veterans Home in Bristol. Suggested items are winter hats, gloves and scarves, shirts, pajamas, underwear, khaki pants, jeans, sweatpants, sweaters and jackets – sizes medium to 4X . Also DVD movies, CDs, greeting cards and full size Dove soap, deodorant stick, shaving cream and cologne / perfume. Donations can be dropped off at the Columbus Club of Lincoln, 171 Jenckes Hill Road, Fridays from 3 p.m. to 6 p.m., until December 10.
• For 30 years, the Cumberland Happy Basket Program came together to ensure needy families in Cumberland receive food baskets and toys during the holidays. Food, new toys and clothing, as well as financial contributions can be dropped off at the Cumberland Senior Center, located at the monastery, 1464 Diamond Hill Road, until Wednesday, December 15. Checks should be made payable to "The Happy Basket Program" and mailed to PO Box 7611, Cumberland, RI 02864. With the pandemic underway, volunteers will not be used this year. For more information, call John Johnson at 401-487-1282 or email [email protected]
• Lincoln Town Hall, 100 Old River Road, is accepting donations of gifts and food for holiday baskets until December 15th. Articles can be dropped off at City Hall, Senior Center, and the Lincoln Public Library. The hours of operation of the Town Hall are 8:30 am to 4:30 pm For more information, contact Peggy Weigner at 401-333-8431 or send an email to [email protected]
• YWCA Rhode Island, 514 Blackstone St., Woonsocket, is collecting mittens and other warm new clothes for their Mitten Tree. With the ongoing pandemic, parents are no longer allowed to enter the building or choose their own mittens. For more information, call 401-769-7450.
• Woonsocket Adopt a Family is looking for donors to 'adopt' a child in need wishlist from Woonsocket. All donation information can be found on the woonsocketadoptafamily.org website, as well as information on becoming a volunteer. For any questions, email [email protected] or leave a message at 401-766-2291.
• New beginnings at Woonsocket serves lunch to those in need every Monday through Thursday, from noon to 1 p.m. The group accepts everything from clothing, food supplies and volunteer services. To get involved or for more information, email [email protected] or call 401-356-4066. Cash in the kitchen is accepted and can be mailed to New Beginnings at 323 Rathbun St., Woonsocket, RI 02895 or PO Box 1555, Woonsocket RI 02895.
• The North Smithfield Pantry is open to residents of North Smithfield and members of the Slatersville Congregational Church, 25 Green Street. Hours of operation are the last two Tuesday evenings of each month from 5 p.m. to 7 p.m. and the last two Saturday mornings of each month from 10 a.m. to 11 a.m. Their food rescue program helps feed hundreds of people each week. For the past three years, they have hosted a Stop Hunger Now event where members of the congregation prepare packaged meals for those in need. The missions committee and congregation provide packed lunches for local families each year. To donate or for more information call 401-769-2777.
• The pantry of North Rhode Island relies on donations and grants to keep operating. Cash donations, monthly pledges, and directed food drives are her most important needs. Donations can be made in cash or by check payable to: The Northern RI Food Pantry, PO Box 7833, Cumberland, RI 02864. If you would like recognition of your donation for tax purposes, attach a request to your donation or donate online at www. .nrifoodpantry.org. The pantry continues to offer drive-thru and indoor options. If you want to use the drive, meet between 8 a.m. and 9:30 a.m. If you want to enter and choose your own items, meet between 9:30 a.m. and 11 a.m.
• The Bon Voisin Energy Fund is available to any Rhode Islander who, due to financial hardship, needs help paying for a routine energy expense and meets eligibility criteria. It is owned by United Way of Rhode Island. Donations come from the general public, businesses and local community organizations. Contributions to the fund are considered tax-exempt donations. To donate or for more information, visit unitedwayri.org.
• Comprehensive Community Action Program announced its Adopt-a-Family 2021 vacation program. Donating $ 300 to $ 400 to the program adopts an entire family. Donations of other amounts are also appreciated, or you can adopt a list and buy everything on that list for a specific person or family. The deadline to donate is December 10, but can be accepted until December 15. Make checks payable to Comprehensive Community Action and send to 311 Doric Ave., Cranston, RI 02910, attention Joanne Gregory. Visit www.ComCap.org or call 401-467-9610.
• Big Brothers Big Sisters of Rhode Island look for donations of lightly used clothing and small household items. Monetary donations will help raise funds to support BBBSRI's mentoring programs for boys and girls statewide. For more information, call 401-921-2434 or visit www.BigsRi.org. A list of drop-off points is available on the organization's website. Donors can also call for a free door-to-door pickup.
• Keep the heat on, a program administered by the Roman Catholic Diocese of Providence, raises funds to benefit families struggling to pay their heating bills, especially during COVID-19. To send a donation, send a check to Keep the Heat On, Diocese of Providence, 1, Cathedral Square, Providence, Rhode Island 02903, or visit www.heatri.com.
• United States Marine Corps Toys for Toddlers collects new, unwrapped toys for children in need. Donations are now collected year round at various locations statewide or online. For a drop-off point near you, visit www.toysfortots.org.
• Locally, Operation Stand Down Rhode Island helps homeless and at-risk ex-combatants obtain housing and other supports, including health and welfare, employment and training, case management and basic human needs. Those interested in helping Operation Stand Down RI can donate non-perishable food items at its facility at 1010 Hartford Ave. in Johnston, where the organization operates a pantry for veterans. OSDRI also accepts toiletries, clothing and monetary donations. Food and gasoline gift cards in the amount of $ 10, $ 20 and $ 25 are also required. The group can be reached at 401-383-4730 or at www.osdri.org. You can also donate online.
• Woonsocket Knights of Columbus Council # 113 and the Knights of Columbus of the State of Rhode Island have partnered with Big Blue Bug Solutions. As part of Operation ROVAC, Council # 113 is collecting new items to distribute to 200 people at RI Veterans Home in Bristol, until December 10th. Donations of new hats, gloves and scarves, pants, khakis, jeans, long-sleeved flannel shirts, button-down flannel pajamas, undershirts, sweatpants and flannel pants, button-down sweaters, fleeces and vests, jackets winter, handkerchiefs, belts, suspenders, shoes / sneakers (sizes 8 to 12.5), slippers with rubber back and bottom, find words / search books (large print only), puzzles, playing card games, DVDs and toiletries including Dove Soap, Irish Spring Soap, Shower Gel, Shampoo, Deodorant Stick, Shaving Cream, Cologne / Perfume, Toothpaste and Teeth brushes will be accepted.
• Pawtucket Soup, located at 195 Walcott Street, accepts both food donations, cleaning supplies and monetary donations. Monetary donations can be sent to: Pawtucket Soup Kitchen, PO Box 3102, Pawtucket, RI 02861. Please make check payable to: Pawtucket Soup Kitchen.