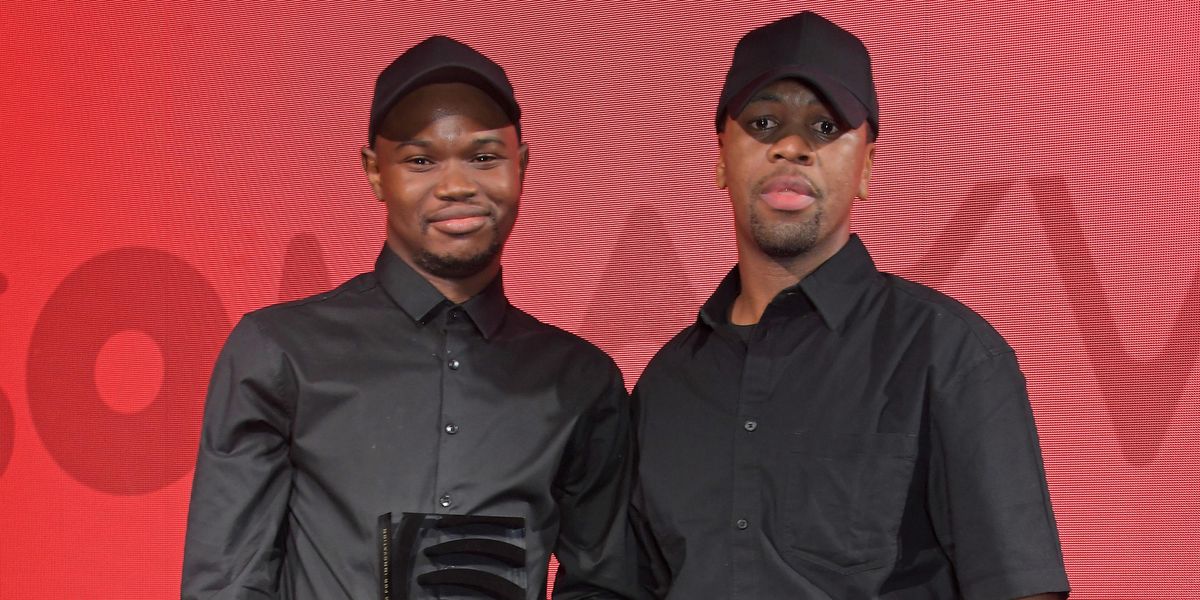 Mmuso Maxwell Designers on the Karl Lagerfeld Prize for Innovation
After a two-year internship with veteran South African designer David Tlale, Mmuso Maxwell was born. The brand, founded by the young duo Mmuso Potsan and Maxwell Boko, has since made a name for herself in the African fashion industry. Featuring hit works with big-name artists like Beyoncé — on her black is king album – they continue to raise the bar on what it means to be a successful emerging designer brand.
The duo started making noise in 2017, when they won South African Fashion Week's Sunglass Hut New Talent Search. Two years later, they came second in 30 Under 30: the new stars Arise Fashion Show competition held in Lagos, Nigeria. The duo went home with $50,000, helping them establish their presence on the global landscape.
Last month, Potsane and Boko won the biggest award of their career: in front of 200 designers around the world, they won the Karl Lagerfeld Prize for Innovation, after presenting a merino wool collection for their Fall/ Winter 2022.
After their big win, OkayAfrica got to meet the duo and discuss their upbringing, winning the Lagerfeld Prize, and more.
How would you describe your brand Mmuso Maxwell?
Maxwell Boko: I think the perfect description of our brand is that it is inspired by African heritage, but most importantly it is intertwined with contemporary culture. It's basically our perspective on our heritage. We are modern young people who live with technology and science and are influenced by these things. So while it's still our African heritage, it's still our own interpretation.
Mmuso Potsan: Our brand is a modern interpretation of who an African woman is. Our brand sees itself as a global brand, and we don't want to limit it to look like an ordinary African brand, but position ourselves as a global brand, while retaining our African roots, interpretations and experiences.
How did the collaboration between you two come about?
Potsan: We met during the 2015-2017 internship. At the end of the internship, we decided to bring our pieces together to make a single collection because we had a similar aesthetic. From there, we just decided to continue as a brand.
It's interesting. You know, the fashion industry can most of the time be more competition than collaboration. How do you navigate times when you might have contrasting ideas?
Boko: I think the reason we teamed up was because we had similar tastes in general. What has worked for us over the five years is that we are not dramatic in our approach to things. It's not "this or nothing". We are always open to criticism from each other. We don't question our individual strengths at all.
Potsan: Yeah, we kind of found a way to agree to disagree. We kind of found a way to come together to have a vision and an objection. So for us, if one of us has really strong feelings about something, we just give them a chance to see how it goes. If not, we find a way to navigate it.
Saul Nash, winner of the International Woolmark Prize, and Mmuso Potsane and Maxwell Boko of Mmuso Maxwell, winners of the Karl Lagerfeld Prize for Innovation, celebrate with models wearing their designs.
Photo credit: David M. Benett/Dave Benett/Getty Images for Woolmark International Pty Ltd
What if you won the Woolmark Karl Lagerfeld Innovation Award? How did it happen?
Boko: I mean, we applied, although I told Mmuso that Woolmark is something that's going to happen to us, maybe in two or three years, and that's because it's usually for established designers. I always thought it would come later for us. So when they contacted us to let us know we were finalists, I thought, "this is crazy".
When I saw the other finalists, I thought there was no chance of winning; But as we progressed through the program, I realized why it was the right time for us. It has helped us as a brand in terms of making our products. The eight months were very difficult, but what I enjoyed the most was working with local artisans. I think that's even one of the reasons why we won.
And right next to it, I think it's very difficult for us to see from the inside how important winning the prize is. It is always our faithful collaborators who help us to see and understand it.
How has winning this award influenced your brand? I mean, how important do you think platforms like this are?
Potsan: I think it's important because it allows you to access spaces in the industry that are very out of reach for a lot of African brands. It influences us and helps us to think more/differently, and just at that level, to play by the rules. You no longer think locally, but internationally. It made us more serious about our business and how to run it. People take your job more seriously, which makes you take it more seriously too.
In terms of funding, it's been a struggle. I mean, as a designer you have to showcase your work and that requires a lot of money for things like shows, showrooms, etc. With the help we're getting from people like Birimian – sort of an investment group for African brands – it helps you take the stress out of it.
And what are some of the challenges you have faced during this time? Are there any ways you navigate now?
Boko: When we launched our brand, we had no initial capital to start our brand. But we got some support, and that made our next challenge the sustainability of our future collections; but recently our major challenge has been fabric sourcing and production. There are no facilities to produce the quality we aspire to.
Potsan: To address these challenges, we're really moving forward one step at a time, and also talking with those who can help with things like this, like Birimian. In terms of production, we have to find a compromise to make sure we get the quality we want.
You are an enduring brand. What are some of the practices you do that make it sustainable?
Potsan: We use local crafts and local artisans. It's something we've been passionate about ever since we created our brand. We use local yarns for production and working with artisans takes us down the slow fashion route.
Boko: We have always had an affinity for natural fibers since our beginnings. As an African creative, you are inherently sustainable because we are not prone to waste. It's not something we can afford. When we buy fabrics, we buy exactly what we need, and everything we've done so far has been pre-order. We don't produce in the hope that someone will buy what we've made. All parts go to our customers.
Are there any creatives that inspire the work you do?
Potsan: The people who inspire our brand with whom we are already currently working. So people love Tatenda Chidora, a photographer. We like too Tony eraser. She's an incredible artist. Same as Chloe Andrea and Daniel Obassi. We totally love these people and we are strongly inspired by them.
From articles on your site
Related articles on the web