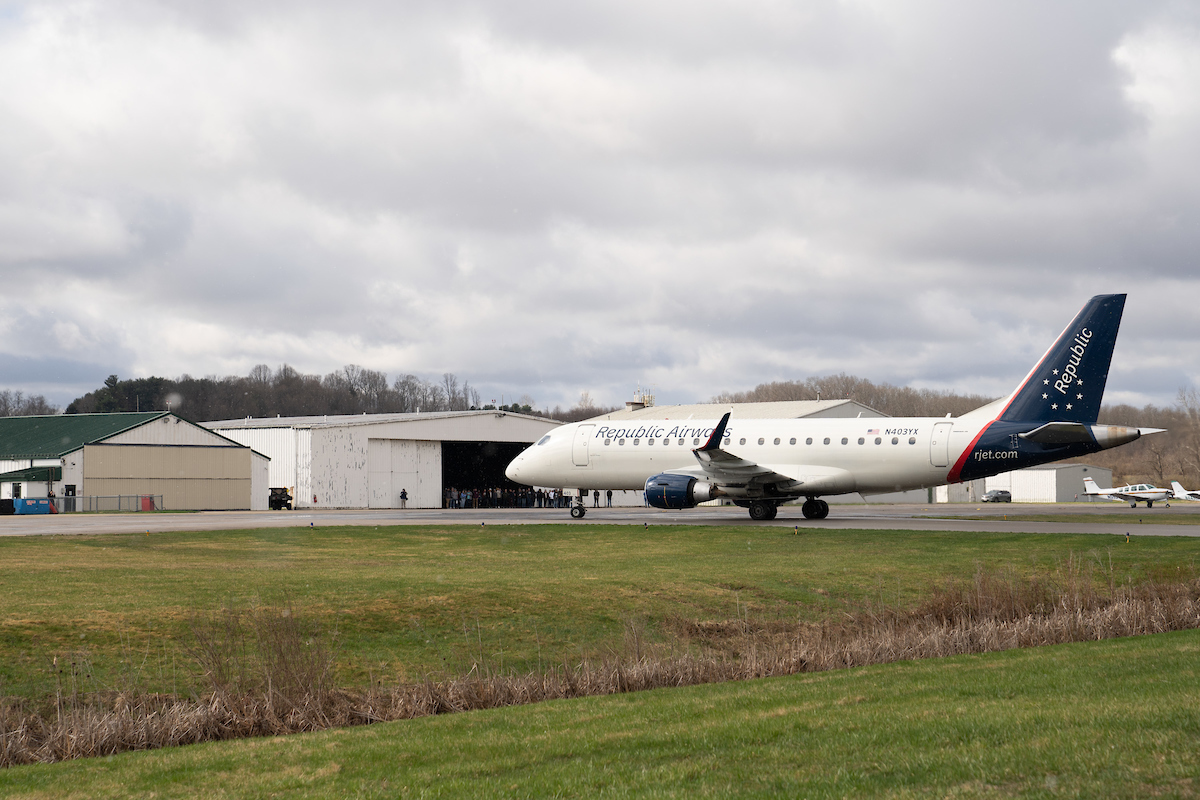 Republic Airways plane visits Ohio University
Gordon K. Bush University Airport in Ohio is home to a variety of small aircraft used to train students in aviation. Although these small planes are commonplace, it was important for aviation students Nathan Hawkins and Max Tkach to welcome a passenger plane – a particularly larger plane – to the airport to help their peers consider their future possibilities for career with Republic Airways.
Hawkins, a fourth-year aviation flight student, and Tkach, a third-year aviation flight student, are both ambassadors for Republic Airways, a regional airline headquartered in Indianapolis. Republic Airways Ambassadors represent Republic on their respective campuses. Hawkins and Tkach are a resource for current OHIO students who may have questions about opportunities at Republic when there is no recruiter on campus. Ambassadors should also schedule at least one recruiting event per semester — that's when Hawkins and Tkach started thinking about their next event.
"What are the odds they're flying in a jet for us to watch?" said Hawkins, recalling the early planning stages of the event.
In the past, most airline recruiting events at OHIO were opportunities to speak to people who work for the company, but Hawkins and Tkach thought flying in a jet would be monumental for their peers, the airline. and the community. Much to their delight, the airline agreed to their plan, and the pilots of the plane were fellow Bobcats as well.
"Looking back to my time at OHIO, I always loved when scouts came to talk to us. Now, to be on the other end of that, I'm really excited to talk to the next generation of pilots," said said Dragoslav Cvijetinovic, pilot of Republic Airways, BSA '17.
As a student, Cvijetinovic served as an engineering ambassador, so he was no stranger to speaking to students about their opportunities in aviation at Ohio University. His own experiences as a student bolstered his enthusiasm to return to the airport where he made his first memories in the sky.
"One of the best days I had was right after I got my private pilot license. One of my first flights I did on my own was visiting my grandparents [in Cleveland]. My mum took them to Wadsworth Airport and they got to see me pilot a plane by myself. It was really cool and special," recalls Cvijetinovic.
As a student, he actively participated in extracurricular activities such as the Flying Bobcats and he sought opportunities to learn from his teachers and flight instructors. Cvijetinovic knew firsthand how his experiences at OHIO enriched his life professionally and personally, which made this recruiting visit all the more special.
"It's one thing to talk to someone to help you achieve your goals, but to see it, to feel it and to live it. Bringing the equipment that these students have the opportunity to pilot when they get their degree, it's exciting," said Cvijetinovic.
On the morning of March 26, 2022, the jet touched down at Ohio University Airport as students excitedly awaited its arrival. On landing, the airstairs were moved to the door to allow pilots – and Bobcats – to descend from the aircraft. The students were delighted to participate in this event.
"It was a fun sight watching everyone line up to get on the jet," Tkach said.
Tkach spoke of the success of the event, recalling that it was an eye opener for students and community members to be able to see the cockpit of the jet and learn about the mechanics of the jet from the people who fly them. each day. Perhaps most importantly, students got to talk to graduates of the aviation program and learn from their experiences.
"At work, we have to carry IDs; I proudly wear mine on an OHIO choker. The number of conversations it sparks is remarkable. People say, 'Oh yeah, this is going to be great. All OHIO graduates are fantastic; it's going to be a great trip. We have a very good reputation," Cvijetinovic said.
Beyond the cockpit, Cvijetinovic was quick to point out that the quality of his degree was "world class" due to what he learned both inside and outside the room. of class. While teaching and instructing at OHIO, he recognized that the Department of Aviation cultivates a culture of kindness, understanding, and learning. According to him, these soft skills set him apart as a pilot.
"These are characteristics that OHIO had that the Republic shares. We do things outside of aviation that help everyone grow. Just recently, I drove to Indianapolis to be part of a Habitat for Humanity build in a hangar at the Indianapolis Republic Maintenance Center. They allow us to be the best versions of ourselves as drivers," said Cvijetinovic.
As an ambassador, Hawkins also looks forward to one day working for Republic Airways.
"Republic took time out of their day and went out of their way to bring one of their planes to this event. A company that is willing to do this for people they don't know is a great company to work," Hawkins said.
As Hawkins and Tkach prepare for graduation and the first steps in their aviation careers, they are both excited about the impact this event will have on current and future aviation students.
"I really wanted to do something for the students and the department. There were a lot of seniors involved in this project and it felt like a good start as we approached graduation," Tkach concluded.