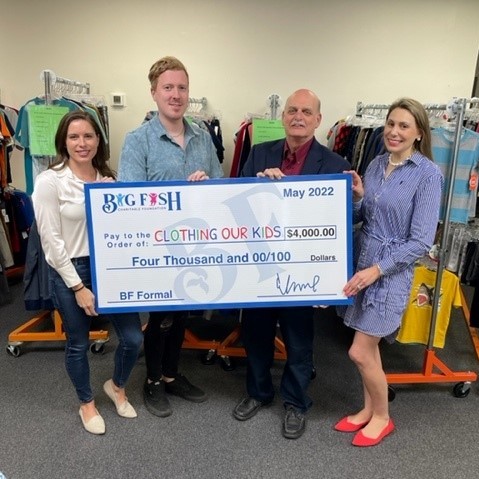 The Big Fish Foundation Supports Clothing Our Kids
The Big Fish Charitable Foundation is a non-profit organization that provides underprivileged children and families with food and basic necessities. In March and April, the Big Fish Charitable Foundation held a clothing drive at the Big Fish Grill in Rehoboth Beach.
As a result, the foundation was able to donate over 100 items of clothing to Clothing Our Kids to help fulfill its mission of improving the lives of at-risk children in Sussex County primary schools by providing them with essential school clothing.
Laura Sugrue, Executive Director of the Big Fish Charitable Foundation, introduced Clothing Our Kids on May 17 with a monetary donation of $4,000 raised at the Big Fish Charity Formal on April 4. Held annually at the Starboard, the event is organized and hosted by Big Fish Restaurant Group employees. . It allows everyone to dress in their best evening attire and give back to the community.
The Big Fish Charitable Foundation and Clothing Our Kids teams extend their heartfelt thanks to Robby Looney, who led the committee this year with enthusiasm and dedication to the cause. Thanks also to co-chairs Alexis Brzoska and Kelsey Hammel, as well as all the team members and regular customers who attended the ceremony to make it a huge success.