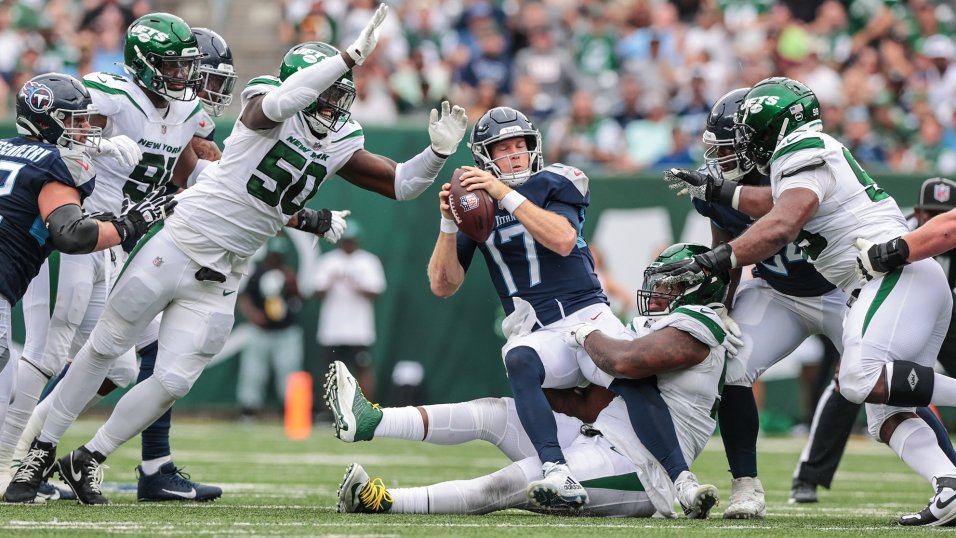 The New York Jets Movie Breaking
The way the New York Jets offense started on Sunday, I have no way of seeing that coming. But of course, like Jet, Robert Saleh's first victory had to come from a failed FG in OT's final game. Multiple botched opportunities to close the game made it a headache, but beggars can't choose. For the first time this year it was fun seeing the tape again, let's take a look:
Special teams
– Matt Ammendola was a great kicker find. He was perfect 2/2 in FG and 3/3 in XP. And on the kickoffs he's been a constant touchback guy.
–Tom Morstead was a solid pickup for injured Braden Mann, averaging 46.2 yards on his punches.
– Braxton Berrios finally had a hard-hitting game returning kicks. As he averaged 16 yards on his punt returns and 24 yards on his kickoff returns.
Defense
– Let's talk about the elephant in the room, the Jets took a HUGE break without Julio Jones and AJ Brown in the lineup. The remaining TEN WRs weren't to be feared and the young secondary did a great job keeping them in check. Bryce Hall stood out with 5 tackles, .5 Sack, 3 defended, 2 QB Hits and excellent timing on his blitz.
– The constant pressure of the DLine produced SEVEN bags. The producers of statistics were:
* Quinnen Williams with 7 tackles, 2 sacks, TFL and 2 QB hits.
* Bryce Huff with 2 tackles, 1.5 Sacks, TFL and 3 QB Hits.
* John Franklin-Myers with 4 tackles, Sack, 2 TFL and 3 QB Hits. Franklin-Myers takes advantage of Carl Lawson's injury and he prepares for a
nice contract.
Even though he didn't produce big numbers (2 Tackles, QB Hit), special recognition must go to Sheldon Rankins. He created so much disturbance / penetration that his line
his comrades were able to "mop up" and obtain the statistics of his work.
– Normally, I would tear up the rush defense (37 rushes / 177 yards). But with Derrick Henry, TEN OLine and their mass running game, I'm pretty happy the defense kept them "in check". Finally, why TEN took Henry off the field in a 3rd and short situation is beyond me.
– The worst aspect of the defensive performance was the game on the screen. Jeremy McNichols was the best TEN receiver (8 rec / 74 yards) on nothing but screens. Too much the 3rd and
long when the defense could have gone out of the field.
– Absolute Monster Games by CJ Mosley and Quincy Williams at LB. Cover the sideline at the sideline, face Henry in the running game, and enter the backfield:
* Mosley had 14 tackles, Sack, TFL and a QB Hit.
* Williams had 12 tackles, sack, 2 TFL, QB Hit and one pass defended. If he continues to produce at this level, he will be known for his acting and not for being Quinnen's brother. And to think he was a waiver pickup before the start of the season.
Offense
– I'm glad the offense produced 27 points but as you break it down I'm still worried. They did not execute the ball effectively (25 rushes / 66 yards) at all and with the exception of the "splash" games produced by Zach Wilson, they could not count on anything.
– Amazing to think it took three full games and three quarters for this team to hold a lead.
– OLine didn't have a push in the racing game but did a good job keeping Wilson clean.
– Corey Davis had a good statistical game (4 rec / 111 yards / TD) but at first he had a bad fall and caused Wilson's INT as he stumbled out of his break. Hopefully the late 50-yard TD Davis will get him started.
– Props to Keelan Cole not only for a good game of statistics (3 rec / 92 yards), but he was the first WR to actually catch a Wilson "out of script" pitch.
– Welcome back from Jamison Crowder because he provided Wilson with a reliable target (7 rec / 61 yards / TD).
– Zach Wilson's "off-screen" talents saved the day for offense as he was 21/34, 297 yards, 2 TD and an INT. All the "splashy" pieces he produced at BYU and during his professional day were on display:
* As he hit Cole 50+ yard to set up a basket.
* He fumbled the snap then hit Crowder on a 30+ yarder to set up a TD.
* Told Davis to go deep for a 50+ yard touchdown.
* And lost a "dime" for a gain of over 30 yards to Cole, which led to the FG in OT.
But for all the "sexy" games, Wilson has to clean up the little things that would have ended the game in regulation or in OT:
* With two minutes left in the fourth quarter, he must complete that pass to Davis to get the first down.
* And on the OT drive, he can't "dirty" the ball to Ryan Griffin on what would have been a walk-in TD.
Now on their way to London to play ATL which lost a tough game to WSH, can this team clean things up and get another win?