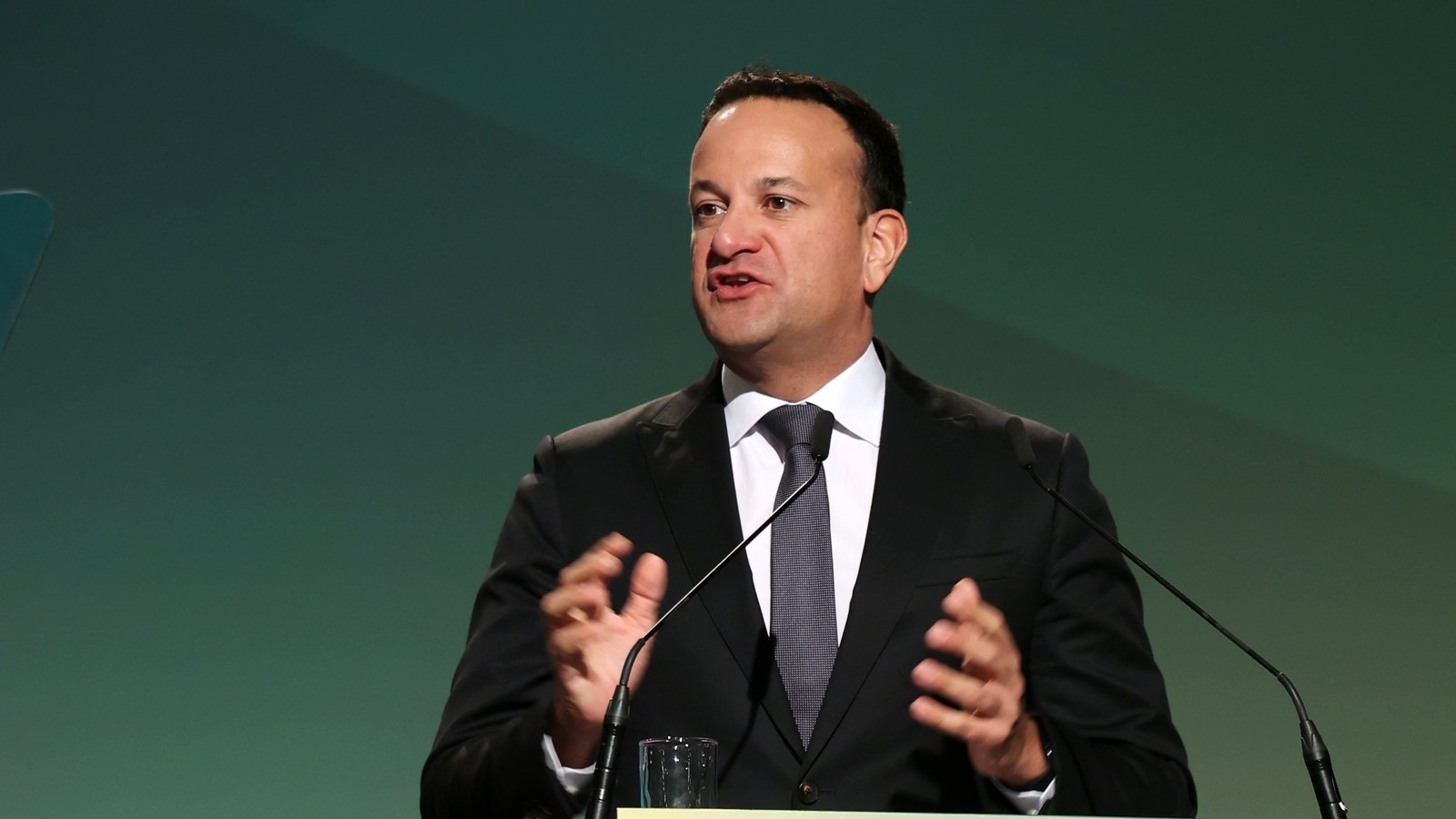 Varadkar speaking to Fine Gael Ard Fheis
Tánaiste Leo Varadkar delivers his leader's speech during the 81st Fine Gael Ard Fheis in Athlone.
Mr Varadkar told reporters last night that Fine Gael is a party voters can trust in difficult times because it has a proven track record in government.
"Leadership, stability and vision" is the slogan used by Fine Gael to describe this year's Ard Fheis, which is being held at Shannon University of Technology.
This is the first Ard Fheis in person since 2019, due to the Covid-19 pandemic, and comes just weeks before Mr Varadkar is due to reprise the role of Taoiseach for a second time.
Several motions presented to delegates run counter to current government policy.
The Galway East Constituency Executive is calling for the concrete block tax to be scrapped immediately as buying a house will become more expensive.
The Ballinasloe branch in Roscommon-Galway is calling for the Shannonbridge and Lanesborough power stations to reopen.
Speaking before the Ard Fheis, Mr Varadkar said Fine Gael were holding the event in Athlone, in part to show that the Midlands have the lowest unemployment rate of any region in the country and have experienced the biggest increase in new jobs last year.
Mr Varadkar said he would refer to Fine Gael's successes in government over the past decade, as well as its proposals for tackling the challenges ahead.
Minister of Foreign Affairs @simoncoveney says it wouldn't be a "radical change" for Ireland to change the triple lockdown and remove the requirement for UN approval before Irish troops can be sent overseas on missions. @rtenews pic.twitter.com/NgzFFGZ8Ac

— Paul Cunningham (@RTENewsPaulC) November 19, 2022
The Ard Fheis passed a motion calling for the removal of the requirement for a UN warrant before Irish troops can be sent overseas on missions.
Dublin Bay South's motion, Young Fine Gael Branch, had called on the government to change the 'triple lockdown' to a 'double lockdown' in which a Cabinet decision and Dáil vote would allow more than 12 Irish soldiers overseas .
Earlier, Foreign Secretary Simon Coveney said it would not be a 'radical change' for Ireland to remove the requirement for a UN mandate before Irish troops can be sent to the foreigner on mission.
Speaking to Ard Fheis, he said: "I would see this decision as a sensible change – acknowledging the limitations of triple lockdown in terms of the ability of the Irish parliament and Irish government to make the decision to be part of a peacekeeping operation."
He said the requirement for a UN mandate "…effectively means that a country like Russia can veto whatever Ireland chooses to do. Is that neutrality?"
Mr Coveney said he believed the triple lockdown had served Ireland well.
"I think it reassured people to have a UN mandate, to have a government decision and a parliament supporting that decision," he said.
However, he said global politics had changed over the past year and he thought many Irish people would feel "uncomfortable" that someone making a decision in the Kremlin could thwart a UN mandate and effectively veto Ireland's participation. in a UN mission.
The minister said changing the triple lockdown was therefore not a radical change but a response to a changing political environment globally where tensions at the UN Security Council mean getting a mandate is "a lot more difficult and complicated.
"I don't see the change to the triple lockdown at all, if it happens, as a change to Irish neutrality. In fact, it only allows us to make a decision for Ireland," he said. .
Mr Coveney said the government was not going to adopt a "gut reaction" to Russia's decision to place 52 Irish politicians and civil servants on a ban list.
"What happened this week is an attempt by Russia, in my opinion, to destabilize the Irish political system, to divide people and to make Ireland talk about who is on the lists and who is not. not," he said.
The minister said what Ireland should be talking about "is the war itself and the potential war crimes that are being committed daily in Ukraine".
He reiterated his opposition to the expulsion of the Russian ambassador to Ireland. saying that "keeping diplomatic channels open, even in circumstances like the ones we are currently experiencing, makes sense".
Regarding the possibility of Russian embassy officials being expelled from Ireland, he said the issue was under constant review.
Meanwhile, party members voted against a motion in the Ard Fheis that called on the government to send javelin anti-tank weapon systems to Ukraine.